Ozone is a very powerful germ killer. It kills germs on contact. For really tough sanitizing jobs, the Fresh Gear patented process, utilizes beneficial ozone distribution via perforated tubes to direct high levels of ozone into the areas of protective gear that often make contact with the skin, thoroughly sanitizing the gear, reducing the risk of infection and removing the odors caused by bacteria build up.
Find an ozone sanitizing center near you.
Not all locations offer sanitizing services. Please contact in advance.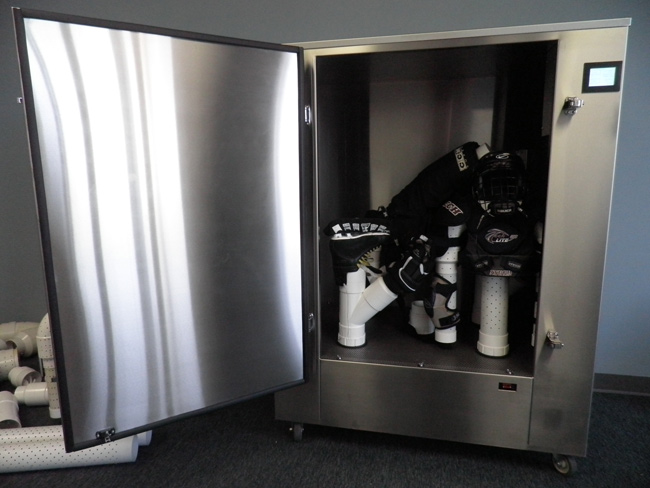 The Best Way to Sanitize Hockey Equipment
It can be a real challenge sanitizing  and deodorizing hockey equipment. Let Fresh Gear chemical-free sanitizing services do it for you!
Protect yourself from viral and bacterial infections, and wipe out the stench at the source.
How Effective is Our Process?
Bacteria growth is highest and hardest to reach on the inside surfaces of protective equipment, such as the inside of hockey gloves and skates, where bacteria levels over 100 times greater than exterior surfaces can be found. Scraped and cut hands enter the hockey gloves unprotected, resulting in high risk of infection.
The independent lab tests below show the amazing results after just one treatment with Fresh Gear's patented ozone sanitizing machine.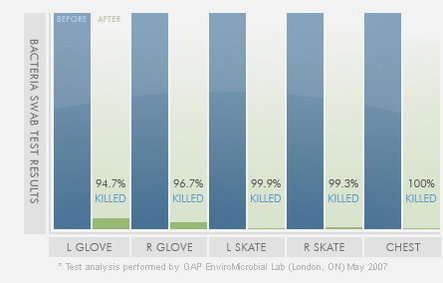 Hockey Gear Sanitizing Service Pricing*
Many Fresh Gear operators offer team discounts and mobile services. Contact the Fresh Gear ozone sanitizing center near you to confirm available services and prices.
Full Set of
Hockey Equipment
Full set of
Goalie Equipment
One pair of
Skates, shoes, or boots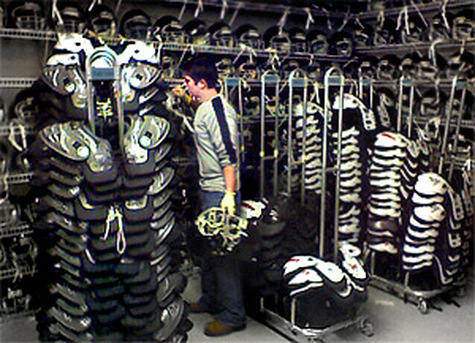 Athletic Gear Sanitizing for Teams
When you focus on the athlete's health, they can focus on the game. Fresh Gear athletic gear sanitizing service operators often provide volume discounts and on-site services specifically designed for sports teams, groups, schools, organizations and tournaments.
Please contact your nearest Fresh Gear sanitizing service provider for availability of the services described above.